COBI 24559 Wartburg 353 tourist Med. Youngtimer Collection
Instruction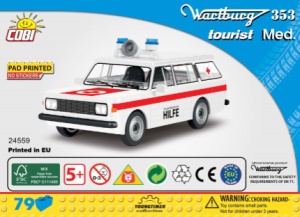 Download

---
Wartburg is a family of passenger cars produced between 1955 and 1991 by the VEB Automobilwerk Eisenach factory in DDR. The 353 was produced between 1966 and 1989. This was an upgraded version of the already used 312 model. The chassis remained virtually unchanged. The new body work was given modern edgy shapes in accordance with the then-reigning fashion. The car had a fairly spacious interior and was powered by a two-stroke engine. The Wartburg 353 was produced in the Sedan and Kombi version.
COBI offers various historical models of The Warta. Throughout the production period, modifications were made to the car design. Thanks to the extended back, it could be modified to sanitary version. The end of Wartburg's production was brought by regime changes and an outdated design using a two-stroke engine.
The 1:35 scale model from COBI, very faithfully reflects the characteristic shapes of the original Wartburg 353 Tourist Med. Thanks to 79 bricks, modifications of the vehicle are possible. COBI print onto blocks rather than utilise stickers. This give great detail to the model as well as durability.
For fans of COBI young or old this model will make a great addition to any collection as well as be a perfect toy for any play room.
79 high-quality components,
produced in the EU by a company with more than 20 years of tradition,
comply with safety standards for children's products,
fully compatible with other design brick brands,
printed blocks do not deform and do not fade during play or under the influence of temperature,
clear and intuitive instruction based on drawings and icons,
a block with a printed model and the name of the car.
Dimensions of the model (length x Width x high):10 cm (3.9") x 5 cm (2") x 4.5 cm (2.8").
Box dimensions (length x Width x high): 17cm x 4.5cm x 14 cm.
 
---
---
Shipping weight:
0,18 Kg
Product weight:

0,17

Kg

Age Reference:
5+
Parts:
79
---